| | |
| --- | --- |
| Article number: | 103235BVRL |
| Availability: | Out of stock |
Sizing and measurement guide below. Please note, however, that your child's cute level while wearing these sweaters is simply immeasurable.
Pure new wool only, sustainably produced
Hand-knit and sewn right here in Vancouver, BC Canada
Breathable, durable and temperature regulating
Unisex design
Insulating, even when wet
Remember to consult size chart below
Colours may not be exactly as shown due to screen displays and photography
Granted, they're amazing
Every once in a while we bring an item into the store that is so universally phenomenal that we wish we could go door-to-door and show everyone its awesomeness in person. These 100% pure new wool vests from Granted Sweater Company are one such item.
Made of pure new wool
Pure new wool is defined as having come directly from a living sheep — not recycled, reused, or re-purposed in any way. It is a sustainably produced fibre that is breathable and durable. It's also temperature regulating, keeping your kids warm when it's cold, but they won't get so hot that they'll take it off and strip down to their T-shirt. Best of all (at least for those of us here in the soggy Pacific Northwest), it keeps on insulating even when it's wet. Which makes sense, because sheep typically don't bother wearing raincoats.
Beautiful designs
Then there are the beautifully simple designs, knitted and sewn by hand in Vancouver, Canada using the intarsia technique of knitting a design in two or more colours. Based on the quality of these sweaters, we can only assume that whoever knit them can magically channel the skills of generations of grandmothers past.
Incredible detail throughout
While the patterns themselves are simple, the workmanship and detail are incredible. Consider the YKK zipper pulls, for example: made of locally sourced wood, each piece is precision lasered and hand-branded. They are left unstained so that over time the applied natural oils create a unique patina finish. They are also weather resistant, durable and have a delicious campfire smell that evokes the joy of camping in the woods even when trudging through a mall parking lot.
They pill because they're pure
Being pure new wool, some pilling will be natural due to friction between the fibres. However, we humans can just use our fingers to pluck those pills out. Pilling wool tends to be more of a problem for sheep, who don't have opposable thumbs.
Sizing Guide: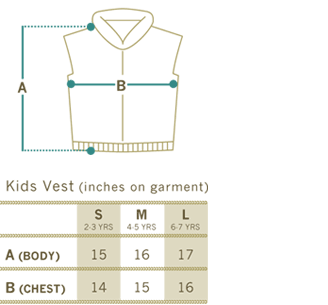 Kids Vest (inches on garment)
 
S
2-3 yrs
M
4-5 yrs
L
6-7 yrs
A (BODY)
15
16
17
B (CHEST)
14
15
16