Posted on
By Pebble
Posted in adult footwear, adult sandal, adult shoes, adult sizes, durable footwear, kids footwear, kids summer sandal, kids summer shoe, outdoor shoe, salt water, salt water sandals, saltwater sandals, saltwaters, sandals for mom, summer sandals, summer shoes, women sandals, women sizes, women's shoes
Saltwater sandals combine beautifully simple style with extreme durability. They're the ultimate summer footwear for kids — and we carry women's sizes too!
With the warm weather arriving at last, it's finally time to have a serious talk about open-toed spring-summer footwear. Not only for your kids, but for you as well, Mom. And no discussion of outdoor footwear is complete without mentioning Saltwater sandals. For years, they've been one of our most popular brands and if you're wondering why, it's probably because you've never owned a pair.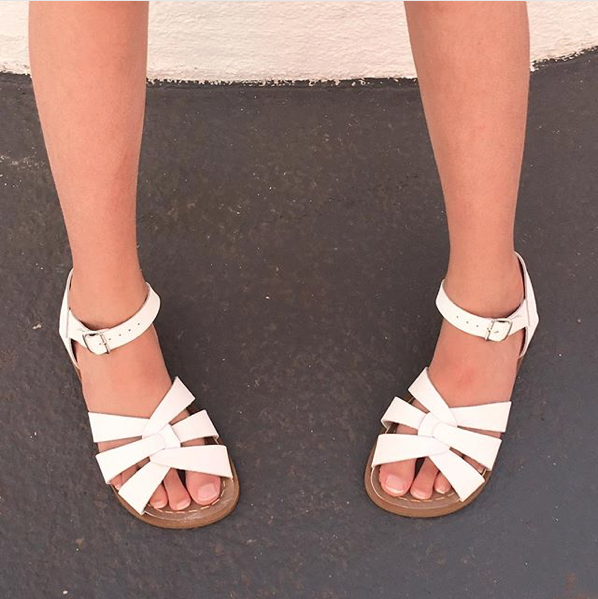 In Pebble's 10 years of existence we've seen our share of footwear, and in our experience we've never seen a sandal that combines style and durability better than Saltwater. There's no fancy space-age materials or proprietary technology at work here — just 100% genuine leather uppers, rust-proof brass buckles and non-slip moulded rubber soles. Perhaps that's what gives their design such a timeless quality. In fact, they may even remind you of the sandals you wore when you were little.
However, while Saltwater sandals gets plenty of attention for their looks, it's their toughness that are quickly forging them into the stuff of legend. Your kids can fit them comfortably on feet and literally wear them all day long, putting them through the kind of shoe hell it seems only children are capable of. They're tough enough to withstand a day at the beach, splashing around in the ocean and crawling all over jagged rocks, even jagged-er barnacles, and who knows what else. And they're just as comfortable on hiking along trails. Sure, they may not have the tread required for serious uphill hikes, but they can easily handle the mud, dirt and gravel you'll encounter on groomed trails.
Above all, here's what truly sets Saltwater sandals apart from footwear made from EVA or some other hi-tech material: No matter how you choose to the day punishing them, all you need to do wipe them down with a damp cloth and they're still a perfect complement to whatever outfit you want to wear them with — even your kid's Sunday Best.
That's right! Due to innumerable requests, we now carry this superhuman summer sandal in adult sizes. Choose the identical style for 'twinning' with your child, or make an individual statement with a style all your own. Then get 'em on your feet — and make the most of the gorgeous weather while it lasts.
Credit: @saltwatersandalscanada