Posted on
By Pebble
Posted in baby prints, bracelet, DIY, Fingerprint Jewellry, Footprint Jewellery, Handprint Jewellery, Jewellery, keepsakes, keychain, necklace, Pop Up, Smallprint
Join us at our Edgemont location this Sunday, April 15 for our second Smallprint pop-up.
It's great to finally have our blog up and running again, so that we have a place to announce our still-too-infrequent but nonetheless fun & exciting in-store events. Like the pop-up we'll be doing with the talented Mahnaz of Smallprint Vancouver North, this Sunday April 15th at our Edgemont Village location. We first did a pop-up event with Smallprint at Edgemont last fall. It turned out to be an even bigger hit with our customers than we were expecting, so naturally we jumped at the chance to do another one now that spring is here. Finally. (At least it seemed to be, last week, kind of.)
If you're not familiar with Mahnaz or her company, Smallprint, they make unique silver keepsakes out of fingerprints, hand and footprints, and even drawings and handwriting. The best part is, their process doesn't require any cumbersome moulds or casts. I could try to describe exactly how they're able to do this here, but I probably wouldn't do it justice. Check out the video below to see how their Magic Ink-less Print Kit works, or even better, drop by Pebble Edgemont on Sunday and let Manhaz demonstrate the process for you in person. It's really cool.
In fact, we ourselves are customers of Mahnaz. Our daughter is a quite a prolific drawer, and dragons have been one of her favourite subjects for a while now. We're always struggling with the best way to save her most awesome drawings from this fleeting age without having to archive boxes and boxes of paper. Then one day when she was around five, she drew one particular dragon for her mom that we knew we never wanted to lose. When Mahnaz came to do the first pop-up at Pebble, we knew right away that this special dragon was the one to be commemorated — and we couldn't be happier with the result.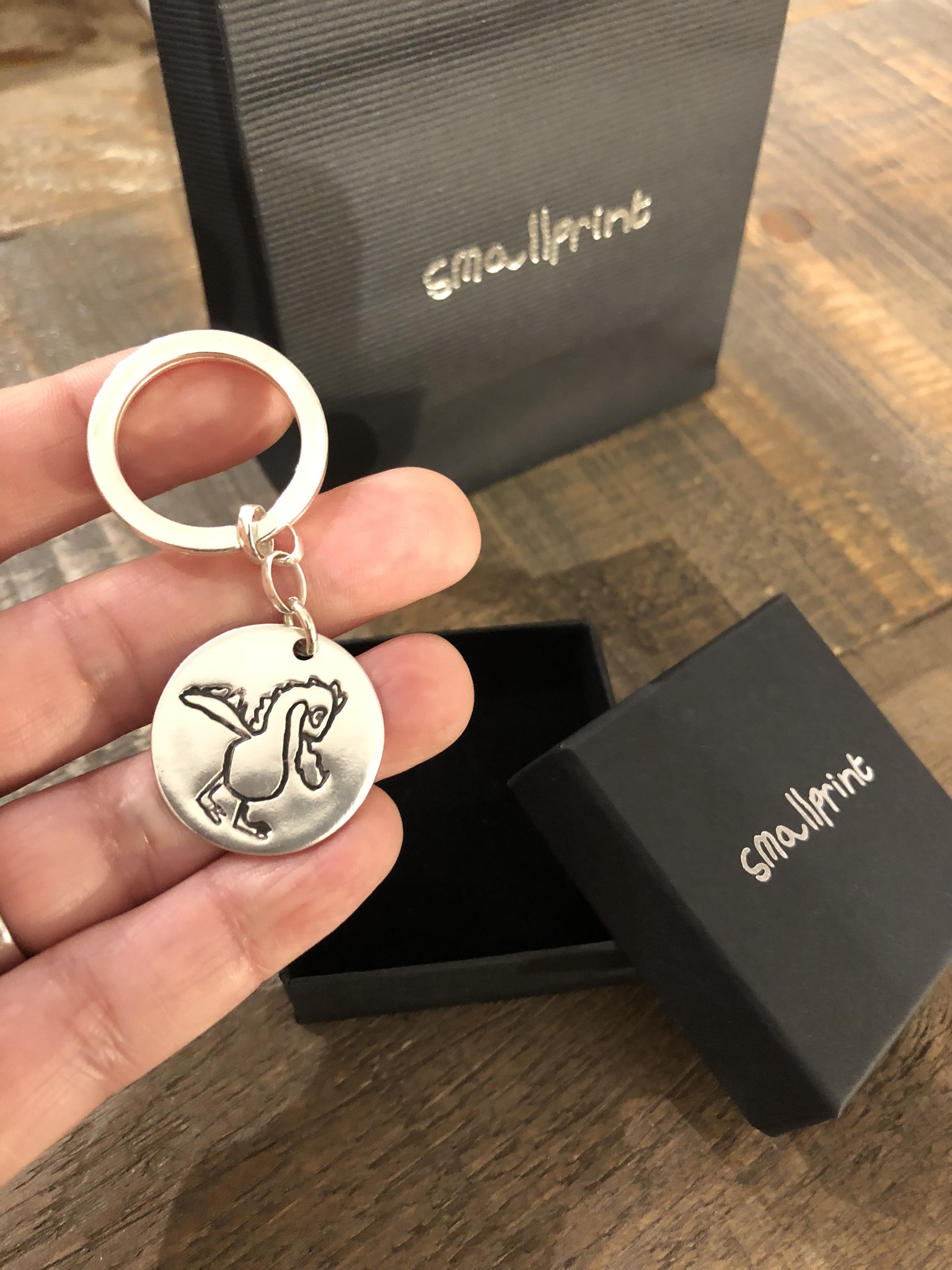 So, if creating lasting memories of your little ones quickly and easily sounds appealing, please join us at our Edgemont store this Sunday, April 15. Bring your kids. And don't forget their hands and feet ;-)